A spa resort is an oasis of tranquility, and can be the perfect way to relax and rejuvenate your body and mind. Designed for guests that are looking for more than day spa treatments and therapies, a spa resort quite often includes accommodations varying from modern, clean and comfortable to spas lush with luxuries that pamper guests to their ultimate desires.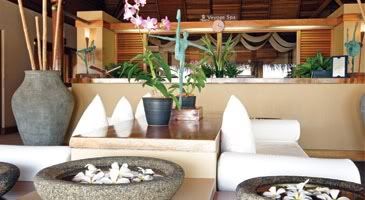 Spa resorts are located all over the world, but may differ greatly based on their location. Available therapies, additional activities offered, surrounding scenic views, décor and types of meals served are all factors we would want consider when choosing a spa resort location.
Some spa resorts target addressing particular health concerns such as weight loss, detoxification of impurities, respiratory improvements, and other health conditions. Other spa resorts focus primarily on calming the mind from the anxieties we might be shouldering. The types of treatments in both cases vary in their approach from professionals in the field of traditional healing, natural and alternative therapy and scientific methods. Each one can be effective, however, we need to feel comfortable with the types of treatment we choose.
The meals served at a spa resort are a highlight for many guests. Quite often designed to have the full impact from flavorful, local fresh ingredients - meals are usually designed not only to please the palette, but to awaken the body so as to best benefit from healthful choices. Wine and other alcoholic beverages are served at many spa resorts as well.
Activities that are found at spa resorts may include group classes, as well as activities for individual interest. Some of these might include hiking, biking, swimming, other water sports and much more. Specific to the location, spa resorts often encourage seasonal activities that promote getting outside for some exercise, fresh air and appreciation of the natural surroundings.
Choosing a spa resort for many is about surrounding themselves in a calming, healing environment. For some, a spa resort vacation can help establish healthier habits and lifestyle choices. Awareness of issues, informational seminars and discussion groups to assist ones with better living are provided at some spa resorts. Couples, family members and friends quite often benefit from sharing spa resort time together where the pressures and anxieties of life are aside, and the focus is on positive thoughts and feelings.
What defines the perfect spa resort destination for someone depends much upon their interests, age, health, location and willingness to travel along with their budget. By investigating spa resorts for types of services offered, activities available, accommodation style and range of costs for desired treatments and services during anticipated duration of stay, we can narrow down our selection to one that meets our needs and budget. We can also research or request reviews and feedback from previous guests prior to committing to stay at a particular resort.
A spa resort is a relaxing, soothing experience for most, and can be enjoyed by people young and old. It is an excellent choice if you need to refresh your mind, or heal your body. Spaseeker can help you find the perfect spa resort.