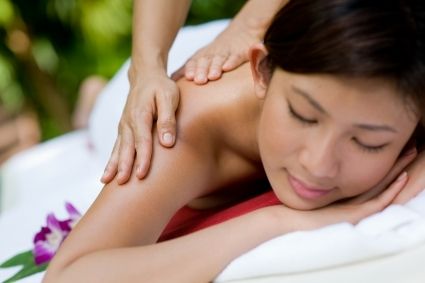 While many see a destination spa vacation as a vacation they would without a doubt enjoy and benefit from, it looms only as a dream for some as they can not justify, or afford, the high prices for certain spa resorts or treatments. To rule out a spa vacation based on these facts alone would be short sighted somewhat as there are many ways to budget for an incredible destination spa vacation at a luxury spa resort - without breaking the bank.
Start a Destination Spa Travel Fund
Just like any other financial goal you might work towards, often our vacation savings are gradual over time. Setting aside a weekly small amount can accumulate faster than you think. It may be that with this type of discipline and an interest bearing savings account, you will see your goal reached sooner than you thought possible. You could also earn some extra cash every week from small jobs like babysitting, writing or taking a part time job.
Bring a Friend on a Spa Vacation

You may like the idea of traveling alone on your destination spa vacation but, there may be a significant decrease in costs if you arrange accommodations in pairs. Taking a friend along may actually enhance your experience and create memories that can be shared later. In addition, having a companion along at a spa resort does not require that they will share all forms of treatments or activities with you. Time alone for quiet meditation is still possible, even when your time at a spa vacation is shared with company.
Sign Up For Spa Vacation Deals Online
The web is a great place to find deals and promotions for destination spa vacations. Sign up for various relevant newsletters on various destination spa websites or online travel sites to get notification of upcoming promotions. If you have a flexible travel schedule, it will be more likely you will be able to take advantage of these promotions as many have set travel dates.
Choose An Affordable Destination Spa Vacation
Many highly popular destination spa resorts that widely advertise their award winning accommodations and services come at high prices. Often, these spa resorts are conveniently located near city centers so as to attract a larger potential customer base. By expanding our options to include smaller destination spas you might find prices will vary more in your favor. Also, don't rule out destination spa resorts that may be a little farther to travel to. Because their location is more remote, their fees may be lower as an additional incentive to get people to book. Also, mid week stays may be lower in price than weekend days. Lastly, check seasonal rates because rates in the low season will be much less than high season.
Opt for a Quick Getaway
You may want to opt for a shorter stay that you initially hoped for and plan to revisit sooner than later. Short getaways that include the basic treatments and just enough of a break in our regular routine can have a tremendous effect on our mind and body. If possible, eliminating the cost of travel by choosing a spa vacation that is closer to home can also make it considerably easier to budget for a destination spa vacation.
Regardless of whether you travel near or far, alone or in company - budgeting for a destination spa vacation is worthwhile. The cost incurred is insurance for a healthy mind and spirit for tomorrow and will without a doubt be a refreshing and revitalizing experience!