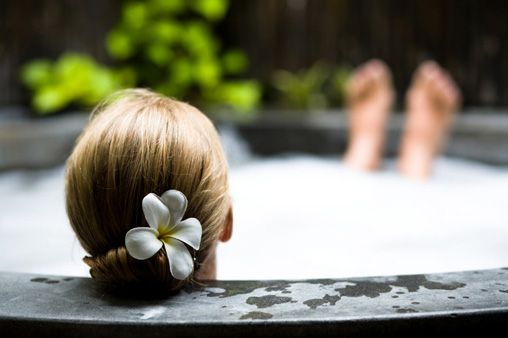 There are many health benefits of a spa vacation. Many people can testify to the physical and mental benefits they have found from taking a spa vacation.  Often, emotional energy, physical strength and mental stamina may be suffering due to deprivation of positive self nurturing. Failing to listen to the signals our body sends us that indicate a need to spend time relaxing, unwinding from the pressures of society, or focusing attention on a specific health concern could mean a downward spiral towards more serious health issues. Keeping a balanced view of time for our family, friends, our career and other responsibilities with the time we need for ourselves, is vital to continuing on a path of a happy, healthy and confident lifestyle.May it's time to go on a spa vacation to reap the health benefits
Physical Health Benefits of a Spa Vacation
If you have a specific area you would like to improve, perhaps seek a specialty spa.. While this list is extensive, some of these conditions include the following:

Muscle fatigue and injury
Weight loss
Body detoxification programs
Skin conditions
Respiratory conditions
Sports injuries

As many types of health concerns as there are, there are almost an equal number of treatment types, varying by location. Natural and holistic based forms of treatment are common, however, a scientific medical approach to healing and recovery is also widely endorsed by spas around the world.
Mental and Emotional Health Benefits of a Spa Vacation
The interconnection between our physical health and our mental and emotional health can not be dismissed. The psychological benefits to experiencing treatments that sooth our souls through massage, meditation, stretching, exercise and cleansing of toxins in our body can be extraordinary. Taking time away from fast paced schedules, high pressure jobs and family life and other responsibilities that challenge our minds daily can have immeasurable positive effects. Particularly after dealing with major life events such as a relationship change, loss of someone close to us, relocating or diagnosis of a serious health condition - our minds may need time to quietly absorb the shock, and to begin the path towards healing.

Whether we choose to experience a spa vacation alone, or to take along a companion, we will undoubtedly enjoy the time we spend at our destination. Free from the distractions that daily interrupt our lives, the environment of a spa vacation  lends itself to relaxation and tranquility. Even if a few of our spa destination treatments incorporate some mild discomfort, knowing that they serve the purpose to invigorate, revitalize or restore damage, and improve our state of mind or body well being will help us keep focused on the positive.

If unsure about whether the health benefits of a particular spa vacation resort are the right match for one's specific wellness goals, the best thing to do would be to contact the location directly and speak to their professional staff. Research the feedback from others online as well to see if their reputation is consistently favorable.

Taking time to visit a spa as a vacation may seem to some as an extravagance. However, offsetting the cost of the spa vacation are often the decreased number of job absent days, medications required to treat certain conditions and the overall health benefits that improve mood, concentration and energy.  A spa vacation can be the best way to approach the future, by taking care of our body and mind today!
Spaseeker can help you find that perfect spa vacation. How? Simply use the useful spa search engine and input your criteria.