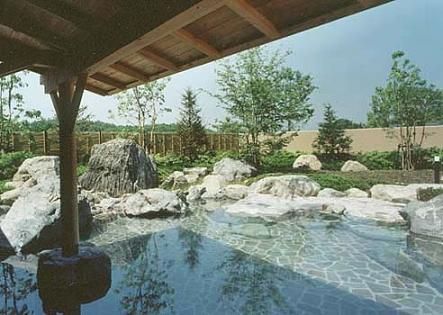 In the past, destination spa resorts were built in places, which had natural hot springs or sources of natural spring waters. Today however, you can find many destination spa resorts in beaches, hills or areas without springs or fresh mineral waters at all.
While most top of the line destination spa resorts offer the same spa and wellness services, and hot tubs usually mimic the effects of hot springs, you may still want to stay in a destination spa resort with a real spring.
If coincidently your spa resort is situated near hot springs, you will be in for an extra treat. Aside from being relaxing, a dip in a hot spring can have many health benefits that should work well with other spa services, too!'
Benefits of Hot Spring Water
Taking a dip in hot water can have plenty of benefits for the body, and here are some of them:
• Increase in body temperature, helping kill viruses and germs.
• Increase in cell oxygenation and blood circulation, helping eliminate toxins from the body.
• Increase in metabolism and helps burn fat.
• Promotes relaxation and sleep.
• Relieves muscle and joint pain.
• Stimulates digestion and normalizes function of the digestive system.
• Normalizes endocrine function.
Because these benefits are provided by regular hot water baths, you may be wondering – why do I need to go to a hot spring when I can simply take a dip in a hot tub? Well, there are several benefits that hot springs have over hot tubs:
• Hot springs have trace amounts of minerals like sulfur, carbon dioxide, calcium and the like.
• These minerals provide a healing effect to the body and stimulates the immune system.
• Trace minerals also promote relaxation and production of endorphins.
• Mineral hot springs have plenty of negative ions, which promote psychological and physical well-being.
• Spring waters with traces of sulfur are beneficial for skin diseases like dermatitis, psoriasis and fungal infection. Mineral waters also promote faster wound healing.
Some Words Of Caution
A quick soak in a hot spring is a perfect way to start other spa procedures. You may want to follow up with a body scrub or full body massage after that.
While a dip at the hot spring should provide you with a lot of benefits, there are some things that you should also consider beforehand.
Before going on your destination spa resort vacation, make sure to check with your physician to see if you are well enough to take hot spring dips. Some people with certain conditions (high blood pressure, lymphedema, pregnant women or those taking prescription medication) are discouraged from using the hot tub or hot spring. When in doubt, limit your exposure to ten-fifteen minutes, tops.
Pay close attention to what you are feeling while in hot water. If you begin to feel to warm or are not feeling well, get out of the water right away. Lastly, keep yourself hydrated while in hot water.
These tips should help you enjoy the hot spring at your destination spa resort without any problem. Find a hot spring destination spa resort at Spaseeler using our free spa search tool.