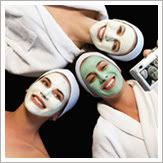 Spa getaways can be a special and unique way of celebrating many important special occasions, whether it be a special birthday, a romantic rendez-vous, mother and daughter weekend, bridal shower or girls' get-together. A spa getaway or destination spa can also accommodate company functions, such as a business seminar or a training course away from the office. Most destination spa resorts will be happy to customize the special occasion or event for you. Hosting a spa getaway special occasion or arranging a company event at a suitable spa destination can be a pleasurable and rewarding experience.

Most spa getaways or destination spas will be pleased to accommodate a private spa party, an informal get together or business meeting and will go all out to ensure that the participants will be attended to in comfortable and often luxurious surroundings. What better way to round off that important business or social gathering than to indulge in pampering spa treatments, so that your guests or colleagues will look and feel their very best.

The following examples are just a few of the many social occasions and business events that can be held at an appropriate destination spa or spa getaway.

Bridal Shower or Stagette Spa Party
The bride-to-be will really appreciate being whisked off to a spa getaway to be cosseted and treated to various restorative spa treatments in the company of her girlfriends. Planning a wedding is often a tiring and stressful affair, so the bride will surely benefit from a relaxing time-out from pre-wedding preparations, to indulge in pampering massages, energizing facials, feet and hand care.

Add to your party some champagne, strawberries and snacks to enrich the experience. After two or three days of expert beauty care and relaxation at the getaway spa, the bride-to-be and her friends will be refreshed and ready for that all-important big day!
Girls Get together
Need some girl-bonding time? All too often in our busy lives, we don't take the time to get together and relax with our friends, so spa getaways are the ideal mini-break to catch-up, gossip and enjoy rejuvenating spa treatments together. Whether it's a small group of 3 or 4, there's a conveniently located getaway spa that can arrange a personalized program for your girls' get together. It could be an all-day spa experience involving facials, massages, body wraps and detoxifications, or a mélange of spa treatments and outdoor activities. A spa getaway is the perfect opportunity to connect with old friends or foster new friendships in a comfortable and stress-free atmosphere.

Spa Birthday Parties
How about planning a spa getaway birthday for a favourite friend or family member? By booking a spa getaway in advance, balloons can be hung, a birthday cake baked and suitable refreshments on hand for the birthday girl to have a fun-filled memorable evening. Once the party is over, there is nothing better the next day, than the skilled and soothing hands of an aesthetician or masseur to help party-goers recover from the celebration of the night before.
Mother and Daughter Weekend
Even if you phone or see your mother regularly, a mother and daughter spa getaway weekend is bound to bring you and your mother closer and create new memories to share. It's a chance for both of you to spend some quality time together, while enjoying all the special delights and spa treatments a spa getaway can provide. A spa getaway weekend will show your mother how very much she is loved and appreciated, in addition to helping her look and feel younger than her years! Who knows, a spa getaway weekend with your mother might well become a regular occurrence in all the years ahead.

Company Events and Functions
If you're a company planner looking to find a refreshingly different type of venue for that next company event, a destination spa or getaway spa could easily be the right choice.
Depending on the size and scope of a company event or function, most spa getaways and spa destinations will readily accommodate group bookings when given sufficient notice in advance. Many destination spas have boardroom or meeting facilities equipped to handle power point presentations and other visual aids.
After a hard day of meetings and brain-storming sessions, course attendees are free to enjoy a healthy outdoor activity, indulge in a relaxing and invigorating spa treatment or simply kick back and unwind in the peaceful surroundings of a destination spa. You and your colleagues will be physically rested and mentally alert, resulting in better decisions and contribution to the business at hand.

Whatever the occasion, be it business or pleasure, there is the perfect spa getaway location or destination spa to help make it a success. So don't just settle for the ordinary, let SpaSeeker help you find the ultimate spa getaway for all those special events in your life!