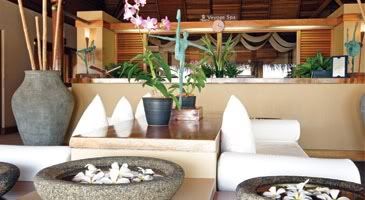 Today's spa retreats are primarily wellness centers, where guests can experience a total immersion in health sustaining treatments. Spa treatments are very popular these days and most of us have tried something on the spa menu. So imagine the benefits of going to a spa retreat for a thorough cleansing of the body, internally as well as externally, full-on spa pampering, along with delicious nutritious meals, yoga exercise and meditation. Spa retreats will help you recover your sense of self and enable you to recuperate from a too busy life with little time to eat properly or pay attention to your health.
You will find that spa retreats will each have their own unique programs and techniques for health and wellness. The experienced and trained staff at a spa retreat will be happy to assist and recommend which treatments will be of the most benefit to your particular needs and concerns. Generally speaking, spa retreats usually provide a substance and alcohol free environment; a vegetarian-based diet to help eliminate harmful toxins and various detoxifying and exfoliating treatments. Many spa retreats also offer extensive and specialized massage techniques, which may benefit and help improve the immune system, joint and muscular pain and other ailments.
As well as the considerable physical benefits of a spa retreat, such as weight loss, less bloating, improved circulation, skin tone and bowel movements, emphasis is also placed on attaining good mental health. This could include meditation sessions, coaching, holistic therapies, chakra balancing, spiritual guidance and counselling. Spa retreats also incorporate yoga exercises and deep breathing lessons as part of the daily routine to encourage guests to focus on their body and inner selves. Yoga poses have many known benefits and correct breathing will help to quiet the mind, all of which aids overall physical and mental rejuvenation.
Most spa retreats are an oasis of peace and tranquility, with comfortable and sometimes luxurious accommodation and beautiful spa facilities. Spa retreats can be intimate and cosy or have extensive grounds for guests to enjoy. In keeping with destination spas, spa retreats often provide outdoor activities, such as tennis, nearby golf, hiking, horseback riding and such. Stays at a spa retreat can be as short as 3 or 4 days or as long as 3 weeks, depending on a guest's individual requirement. Many guests return year after year to the same spa retreat, in the same way that people of old used to regularly take the cure at fashionable European bathing resorts.
Taking time-out at a spa retreat will introduce you to the many benefits and services that a wellness center can provide in addition to the more mainstream spa culture. Whether it's simply a few days of relaxing and healthful treatments or a more extended stay to thoroughly overhaul your old self, spa retreats can help to replenish lost energy and restore natural health by ridding the body of poisonous toxins that create a tired and sluggish feeling. A spa retreat will surely rejuvenate you and ensure you leave refreshed and energetic to face daily stresses of life.
With just a click away SpaSeeker will easily and quickly help you find the ideal spa retreat for your needs.