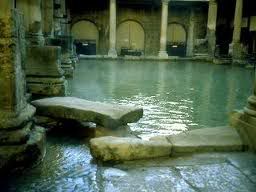 Spas are not a modern invention. In ancient Greek and Roman times going to a spa for bathing purposes was an integral part of their daily routine. The Baths, as they were called, were built around natural mineral waters and were thought to have exceptionally curative healing powers for all sorts of ailments, as well as being a place to cleanse and restore the mind and body. The word "spa" originates from the Latin word spagere, which means "to scatter, sprinkle or moisten." "Spa" first came into common use around 1316 after the discovery of chalybeate springs in the town of Spa, Belgium and the subsequent popularity of its famous Baths. This in turn led to any health resort involving mineral waters to be labelled a "Spa."
Throughout its Spa history, a Roman Spa was not only a place in which to take daily hot mineral baths and other cleansing treatments, such as sweating and massages to rid the body of poisonous toxins. Spas were also important social centers, where patrons could mingle and enjoy nightly entertainment after the ritual bathing was done. In keeping with the Roman and Greek spa culture, men and women were strictly segregated and had their own separate facilities.
Historically, Roman Spas were large, architecturally beautiful buildings with elegant columns and mosaic inlaid tiles with an intricate system of treatment rooms and aqueducts. Many Roman-built spas or Baths still exist in modern day Europe; such as Bath, England, Baden-Baden in Germany, Aix and Vichy in France. After the fall of the Roman Empire, many of its Baths in Europe were abandoned and public baths in general fell into disrepute. As a result, the practice of bathing regularly declined and was viewed as harmful to one's health.
It wasn't until the more enlightened 18th and 19th centuries that health resorts and spas underwent a revival as physicians began to realize the medical benefits of drinking and bathing in mineral waters and spa cleansing treatments. Society once again flocked to all the famous Spa towns of Europe "to take the waters or cure" and to participate in the many social activities to be found at these opulent spa health resorts. It was around this time that the spa culture crossed the Atlantic, resulting in North Americans building their own luxurious spa health resorts, modelled after European Spas.
Much of the modern day spa culture owes its existence to those early beginnings and has evolved to emphasize such treatments as skin care, massages, nail grooming and detoxifications. Regular soaking in public mineral baths still remains popular in Europe, Japan and other parts of the world and is currently enjoying a come-back in North America. Spas nowadays are places devoted to well-being through a variety of services that promote the renewal of the mind, body and spirit. Spas come in many forms and range from a beauty salon, a day spa or a luxurious health resort and wellness center. Modern spas offer some or all of the following treatments:
Whether you're taking time out to relax and rejuvenate or require a specific beauty treatment, today's spas are an oasis of calm and serenity, with trained professionals on hand to pamper you. Going to a spa on a regular basis helps to maintain a good standard of personal care, as well as ensuring a healthy balance between mind and body.
SpaSeeker is just a click away to help you find the ideal Spa for all your needs